After a stroll in Conflent, why not relax in some natural hot springs? Nestled in the heart of a stone amphitheater, St. Thomas' springs are part of Conflent's regenerative waters. Just imagine - the water gushes out at 58˚C, ideal for relaxing with family or friends. So there is not a moment to lose; it's time to put your swimming-costume on!
As well as being at an ideal temperature, these waters are known for their properties and benefits: skin treatment - which is why a range of cosmetics named Authentica Bio is produced on site.

The Bains de Saint Thomas welcome you between 10:00 a.m and 19:40 p.m. During the holidays the Bains de Saint Thomas are open from 10:00 a.m. to 8:40 p.m.
The Saint Thomas baths will be closed from June 12 to 25, 2023 inclusive.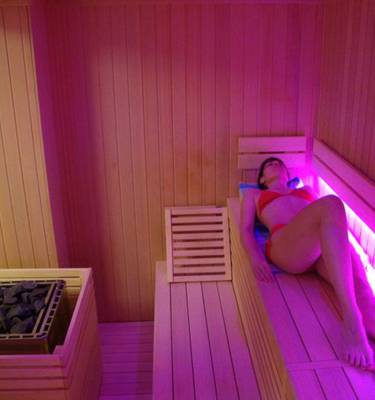 Saint-Thomas-les-Bains, an exceptional place
Imagine a sunny corner in the mountains at the bottom of a valley, a vast stone amphitheater sheltering three pools of hot sulfur water in the open air… You are in St-Thomas-les-Bains in the municipality of Fontpédrouse, 1,150m (3,772 feet) above sea level, where a fabulous sulfur spring with well-known health benefits gushes out at a temperature of 58˚C.
There are three exterior pools - temperature 37°C - equipped with jacuzzis and massage jets as well as two natural thermal showers with regulated temperatures. Inside there are three hammams with rising temperatures, perfumed with eucalyptus essential oil and equipped with chromotherapy ambient lighting (optic fiber), including a cold pool and showers. You can also enjoy two jacuzzis, a relaxation area and three beauty and massage rooms as well as a tea room.
Magical waters
Saint-Thomas's thermal waters are classified amongst the hottest in the Pyrenees (58˚C). The waters contain sulfur, bicarbonate and are rich in fluoride, silica and trace elements. Its thermal plankton means it is light and soft on the skin. These exceptional waters have an analgesic action, they relax the muscles, are hypoallergenic and have wound-healing properties. Waters that do you good!
The temperature in the pools varies depending on the climate: between 34° and 38°C. It is an ideal place for families – the pools' maximum depth is 1.20m. St. Thomas' baths welcome you all year round from 10.00am to 7.40pm. During high season, they are open for an extra hour.
Authentica Bio, cosmetic range
Made with active thermal plankton from St. Thomas baths', Authentica Bio cosmetic range is particularly beneficial for skin problems. Micro-organisms such as thermal plankton stimulate the skin's natural defenses, allowing it to fight daily aggressions. Plankton also helps to maintain a healthy epidermis and has soothing properties.
Authentica Bio should be used like any other cosmetic product, over a minimum period of 28 days in order to respect the natural cycle of cell renewal and thus gain maximum benefit from the product.
You can buy the Authentica Bio range on the website or in the Authentica Bio boutique located next to the baths.
More information and rates
66360 Fontpédrouse + 33 (0)4 68 97 03 13
www.bains-saint-thomas.fr
adult simple formula : 7,50€
Children : 6,00€
Groups: From 10 people. Prior reservation required.
Bathing shorts prohibited. Possibility to rent swimsuits at 1€50
Cosmetics : Authentica bio


The baths are open every day from 10:00 a.m. to 7:40 p.m.
In July and August: closing at 8:40 p.m.
Closed May 1