With a large network of rivers, Conflent is a corner of paradise for those who are passionate about fishing or nature. Amidst the sumptuous landscape and benefitting from a clement climate, there is water everywhere, abundant with fish. Here, wild trout reigns.
Practical information and the environment
The crystal clear water, silvery water falls, rivers and mountain lakes offer everyone, beginner or expert, a variety of fishing experiences: fly-fishing, line fishing, bait fishing, angling, fishing with worms...
The lake at Prades, and the Vinça dam, lend themselves to beginners or family fishing while the more serious fisherman may prefer to fish in the river. There are some catch and release areas, and other areas of the region which combine sport, nature and leisure.
Christophe Idre, a champion
Prades has its own fishing champion, Christophe Idre, who learnt to fish on the Têt and has taken part in competitions since he was 17 years old. Member of a group of sporting fishermen from Conflent, he joined the French team in 1998. Champion of France in 2003, he has been France's premier fly-fisher by PSM classification (a professional association for fishermen in France) for several years. His 12 selections into the French team for the European and World Championships have allowed him to win gold four times and to travel all over Europe, New Zealand and Australia.
Christophe now passes on his passion and know-how to young people and helps them follow their dreams.
Pratical side
Annual Fishing Card: interfederal, adults, discovery for women, 12 to 18 years old, under 12. Possibility of weekly or daily cards. You can obtain it on www.cartedepeche.fr or at the following resellers:
France Rurale in Prades : 04 68 96 40 18
Bar chez Jean-Louis in Vernet-les-Bains : 04 68 05 54 04
Tabac Presse in Marquixanes : 04 68 05 23 93
La Presse in Vinça : 04 68 96 18 70
Fishing periods in the Pyrénées-Orientales
For waterways containing salmonides, fishing is open from Saturday, March the 12nd of March until the 18th of September 2022.
Vinça Dam and Vinça's Lac des Escoumes : all the year
Prades' lake : saturday, sunday, wenesday and public holidays, from the 12nd of march till the 18th of september.
Mountain lakes of Nohèdes and Evol, fishing is open from the 28th of May to the 2nd of October, every day
Olette private artificial lake: fishing for the day without fishing licence, rod loan.
Information
Fédération départementale des Pyrénées Orientales pour la pêche et la protection des milieux aquatiques (Departmental Federation for the Eastern Pyrenees for Fishing and Protection of Water Areas)
Route Départementale
66170 MILLAS
Tel. 00 33 (0)4 68 66 88 38
Site internet
You will also like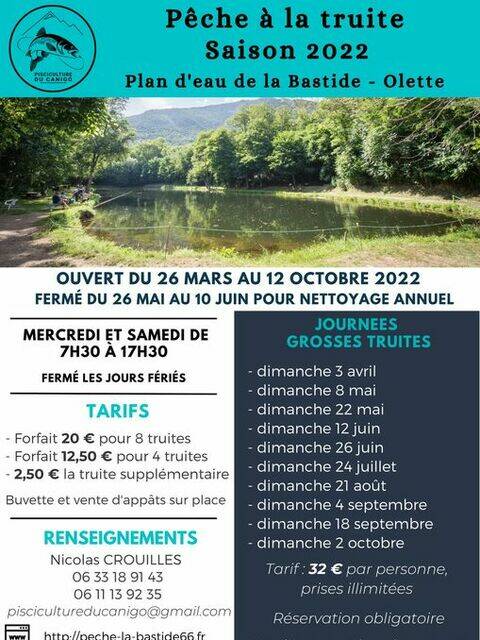 The Bastide lake in Olette opens its doors on March 26, 2022.
(closed from May 26 to June 10 for annual cleaning)

10 "big trout" days are planned throughout the season.

It is open from April to October, Wednesday and Saturday from 7:30 a.m. to 5:30 p.m.
Reservation exclusively by SMS on 06 33 18 91 43.